KM should be supported by a collection of technologies for authoring, indexing, classifying, storing, contextualizing and retrieving information, as well as for collaboration and application of knowledge. A friendly front-end and a robust back-end are the basic necessities of a software tool for knowledge management. Figure below shows my knowledge management system architecture.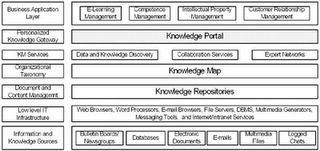 The lowest layer handles sources of explicit knowledge. Explicit knowledge resides in repositories as documents or other types of knowledge items (e.g., e-mail messages, and database records). Standard authoring tools (such as word processors) and database man-agement systems (DBMS) support this layer. File servers, e-mail tools and Internet and intranet services support the infrastructure layer; document and content management sys-tems handle knowledge repositories. Knowledge must be organized according to the con-text of each organization, based on a corporate taxonomy that creates a "knowledge map", supported by classifying and indexing tools. Tools also support, at the next level, data and knowledge discovery and collaboration services. Through portals, knowledge can be distributed as needed by different users and applications, such as e-learning, competence management, intellectual property management, and customer relationship management.
It is difficult to draw a line between what is called information technology (IT) and tools for KM. In the above architecture model I consider KM to be the higher layers, starting at the "knowledge repository" level with IT constituting the lower layers, but this boundary is fuzzy. I concentrate on the upper layers of the architecture and view systems from a knowledge management perspective. I will discuss the needs of employees that use knowledge, the types of knowledge conversion that occur and a common set of features provided by systems from each category. The systems I selected to analyze are those that are widely used for supporting the KM layers of the above architecture. This survey is not intended to cover all systems on the market but rather to give the reader a sense of the various systems that are available for knowledge management.